Boracay Hotel Accommodations
Recently named as the World's Best Island Getaway by Travel + Leisure Magazine, Boracay is one of the most sought-after destinations in the Philippines. Every beach lover dreams of walking on its cool powder-fine sands and imbibe in the bohemian vibe the island exudes. Boracay's beauty rivals that of more popular destinations in the world, including Bali in Indonesia, Santorini in Greece and the Caribbean Islands.
Over the past decades, establishments have mushroomed along the shores of the island, giving way to more tourist activity. Every kind of accommodation is available in the island, from high-class resorts and hotels to backpacker hostels and bed spaces rented out by locals. It's never too hard to find a place to stay in Boracay, except perhaps during peak season.
Tourist Seasons
Just like any other popular tourist destination, there are seasons in Boracay. Holy Week, Chinese New Year, Christmas and New Year the peak seasons in the island. This is when tourists (both local and foreign) come in droves to the island resulting to crowded shores, long lines to attractions and of course, fully booked hotels. This is also when some resorts/hotels place a 10-25% premium on their rates. Be sure to book in advance to avoid inconvenience.
High Season is when Amihan (northeast monsoon) blows into the east side of the island, leaving White Beach with calm waters ideal for swimming, snorkeling, diving and other pursuits. Published rates are applicable for hotels in the island but it is still better to book in advance since there will be plenty of tourists clamoring for accommodations. High season begins in October and extends until April or early May.
Low Season starts when Habagat (southwest monsoon) brings in strong winds into White Beach. It starts to rain during this season and there are fewer tourists. If you're looking for the best time to enjoy the beach without the crowds, low season is your best bet. Accommodation rates and prices for everything are generally lower during this season so this is also a great time for the budget-conscious traveler. It is not necessary to book in advance during low season; in fact, rates can be negotiable on the spot in some hotels.
For seasoned Boracay visitors, accommodations on White Beach can be classified by the Boat Station they are located. Before the Cagban Jetty Port was operational, boats from Caticlan dock in three portions on White Beach, thus the boat stations. As a general rule, accommodations get more expensive as you approach Boat Station 1 from Station 3.
Boat Station 1
Located at the northern portion of White Beach, Boat Station 1 boasts of the widest shore in the island. This is the quietest part of White Beach, a favorite among foreigners traveling with children and those who are looking to spend a peaceful afternoon on a lounge chair by the shore. Accommodations in Boat Station 1 are generally more expensive than the other two stations. Here are some excellent resorts/hotels in the area:
Jony's Beach Resort
Set in the midst of coconut trees along the shore, this hotel offers modern accommodations with a touch of Filipino tradition. The resort features 21 tastefully-appointed guestrooms complete with comfortable beds, TV sets, en suite bathrooms and air-conditioning. Guests also enjoy delectable culinary delights from their on-site restaurant.
Click here for more information about Jony's Beach Resort
Discovery Shores Boracay
The five-star property has been recently named as the best hotel spa in Asia by Travel + Leisure Magazine. Guests at the resort enjoy easy access to White Beach as well as other attractions on the island. Rooms are equipped with modern amenities including LDC televisions, iPod docks, WiFi Internet access and DVD players. There is an outdoor swimming pool with a waterfall, a hot tub, a restaurant and bar, and a spa on site.
Click here for more information about Discovery Shores Boracay
Sea Wind Boracay Island
This four-star property is a popular choice of accommodations due to its location and winning amenities. It faces the beach so guests enjoy easy access to everything that's going on. The hotel has an outdoor swimming pool and offers a wide range of water activities including scuba diving and island hopping tours. All guestrooms are well-appointed, air-conditioned and equipped with a private bathrooms and mini bars. There is also a restaurant, café and meeting facilities on site.
Click here for more information about Sea Wind Boracay
Two Seasons Boracay Resort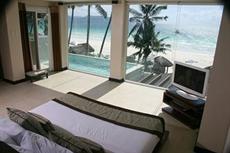 This is another beachfront property that offers fine accommodations and excellent amenities. It is well-suited for every type of traveler: business, leisure and those who are traveling with children. There is a separate pool for kids, an adult pool and free Internet access for those who would like to keep in touch with the rest of the world. Resort staff will be happy to arrange tours, dining and activities for their guests.
Click here for more information about Two Seasons Boracay
Ambassador in Paradise Resort
The five-star property offers the ultimate getaway for their guests through a wide range of services and amenities. Personalized butler services are offered to ensure guest satisfaction during their stay. All guestrooms have balconies looking out to the pool and the beach a few meters away. There is also a gourmet restaurant/bar on site offering international cuisine and indoor or al fresco dining options.
Click here for more information about Ambassador in Paradise Resort
Boat Station 2
Boat Station 2 is in the middle of everything. It is in the central portion of White Beach where most bars, restaurants, shopping venues and water sports vendors are located. It is the busiest part of the entire island; guests often walk from the other boat stations to dine, play and shop in the area. Boat Station 2 is best suited for those who want to have easy access to everything but it is not for those who want a quiet vacation. It is the heart of Boracay's pulsating nightlife so expect to hear loud music until the wee hours of the morning.
Red Coconut Beach Hotel
This four-star hotel is considered one of the most convenient in the island, being located close to everything on offer. All 45 well-appointed guestrooms at the hotel have private verandas opening out to views of the sea and the outdoor pool. For added comfort, the hotel lobby is climate-controlled and all guestrooms are air-conditioned. There is a restaurant and bar on site.
Click here for more information about Red Coconut Beach Hotel
Regency Lagoon Resort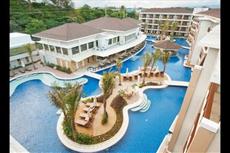 This five-star property is ideal for both business and leisure travelers. There are meeting facilities, a business center and WiFi Internet access for the business traveler. On the other hand, leisure travelers enjoy an outdoor pool, a sauna, fitness center and easy access to water sports along the beach. Families with children can stay in the spacious guestrooms complete with modern amenities including a marble bathroom.
Click here for more information about Regency Lagoon Resort
Boracay Regency
With 285 guestrooms available for guests, this five-star property is one of the best resorts in the island. Aside from its ideal location in the middle of White Beach, the resort also offers convenience through airport transfers, room service and a wide array of amenities including an on-site restaurant, bar and salon. Guests at the resort enjoy state-of-the-art in-room facilities, premium beds and sheets and a wide outdoor swimming pool.
Click here for more information about Boracay Regency
Boracay Mandarin Island Hotel
The hotel is an excellent choice of accommodations for those looking for relaxation in the midst of everything going on. It is a beachfront property that features an outdoor swimming pool, a spa, a sauna and massage areas. There is also a restaurant and bar on site that offers room service.
Click here for more information about Boracay Mandarin Island Hotel
Le Soleil de Boracay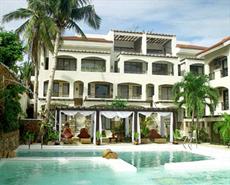 This Mediterranean-inspired hotel offers convenience, value and comfort in one package. The hotel's clean guestrooms are well-appointed, complete with private bathrooms, TV sets, coffee/tea makers and safety deposit boxes. Internet access is available as well as complimentary continental breakfasts.
Click here for more information about Le Soleil de Boracay
Boat Station 3
Boat Station 3 is the favorite spot for beach bums and those looking for a quiet but less expensive place to stay in the island. The sand quality in this area is not as fine as in Station 1 or 2 but it is definitely peaceful and one can enjoy an entire day of sunning without having to deal with passersby and vendors offering their wares and services.
Asya Premier Suites
Guests at this five-star resort enjoy all the amenities offered by properties of its class including an outdoor pool, a private beach, non-motorized water sports, manicured gardens, an on-site restaurant and a wide range of services. All 20 guestrooms are with premium beds and beddings and well-decorated bathrooms with robes. There are numerous lounge chairs by the pool and by the beach.
Click here for more information about Asya Premier Suites
Arwana Hotel of Boracay
This hotel has an unassuming façade with the beach a few steps away. All guestrooms are tastefully-appointed and designed to ensure comfort and satisfaction among guests. There is a restaurant on site that offers indoor and al fresco dining.
Click here for more information about Arwana Hotel of Boracay
Boracay Sands Hotel
With babysitting services and children's activities, this hotel is well-suited for guests traveling with little ones in tow. All guestrooms are with private bathrooms, premium beds and beddings and modern amenities including WiFi Internet, plasma TVs, DVD players and coffee/tea makers.
Click here for more information about Boracay Sands Hotel
Surfside Boracay Resort Spa
The hotel is aimed at providing affordable yet excellent accommodations for guests looking for relaxation and comfort. All cozy guestrooms are well-appointed and equipped with Jacuzzi bath tubs and other bathroom amenities. The resort also features a sauna, steam room and massage areas.
Click here for more information about Surfside Boracay Resort & Spa
357 Boracay
This hotel artfully combines Filipino traditions and modern amenities to ensure guest comfort and satisfaction. Guestrooms have Filipino-inspired décor and are well-equipped with all the needs of the modern traveler. Internet access is available throughout the hotel.
Click here for more information about 357 Boracay
Boracay is home to a great number of rooms you can call home during your holiday in the island. All of them offer what they deem is best for their guests and all of them ensure that you have a wonderful stay. Such is the brand of hospitality that the Filipino is known for and Boracay is one of the places where you can best experience it.
Boracay Travel Information
Dive wreck sites near Boracay Island
Learn about the beaches on Boracay Island
Find a place to stay on Boracay Island
Subscribe free:
Subscribe to our newsletter and receive your free copy of Filipino Home-Style Cooking: