More and more travelers come to Boracay Island not just for the sheer beauty of its beaches. With the emergence of more stunning (albeit rustic) beaches destinations in Palawan and other islands, Boracay's local businesses have become more invested in the wellness industry. People don't just make the trip to the World's Best Island for the beach and the parties anymore; some come to experience a much-needed relaxation in any of the best spas on Boracay Island.
It makes a lot of sense; most of us save for vacations in hopes of "getting away from it all". But more often, getting away isn't such a feasible idea in this party island where music and dancing is the norm from sunset to sunrise. We couldn't be any happier that the spa industry is emerging on Boracay; it only means we get to really relax and indulge ourselves in heavenly treatments.
Spas in Boracay vary in prices, level of luxury and location. Anyone can have a beachside massage under the shade of a tree on a makeshift mat somewhere in Station 1. Others still prefer a little luxury provided by the beachside massage centers complete with beds and gossamer curtains playfully blown by the gentle breeze. Those who can afford it opt for the best spas on Boracay Island, most of which are located and operated by top resorts. Here are some of them:
Chi, The Spa at Shangri-La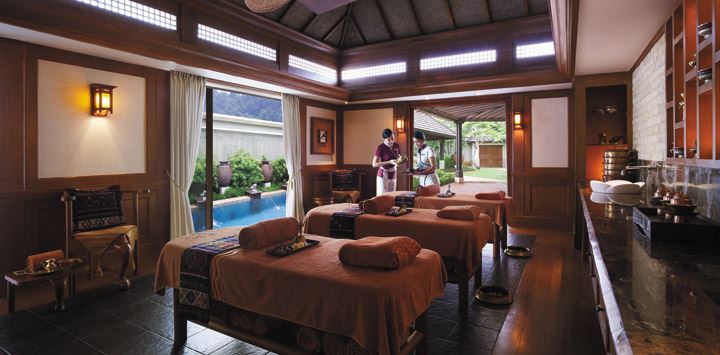 Located in Boracay Island's most luxurious resort, one can only expect the ultimate relaxation experience at Chi. The spa is at the heart of the resort, looking out into Shangri-La Boracay Resort and Spa's private beach.
The spa's Sense of Place menu includes Filipino-inspired treatments like the Philippine Hilot, Hot Dinuot Muscle Relief and Palina Hilot Massage. All these use local botanical ingredients for the ultimate Filipino relaxation experience. Also on offer are body treatments, facial treatments and the CHI Signature Journeys. There are also wellness programs and retreat packages available.
Price Range: PhP4k-PhP12k, exclusive of taxes and other fees
Terra Wellness Spa
Discovery Shores Boracay's Terra Wellness Spa operates on the principle that the mind and body must be relaxed in order for one to feel whole. It is regarded as one of the best spas on Boracay Island as they offer guests the opportunity to be one with nature, the Earth (hence, Terra).
Treatments at Terra Wellness Spa are a fusion of Eastern and Western relaxation methods, all designed to rejuvenate the body. On offer are different treatment packages including journeys, couple's massages, deep tissue massages, body scrubs and wraps, and foot therapy among others.
Price Range: PhP1.5k-PhP10k, exclusive of taxes and other fees
Mandala Spa and Villas
Reputably the best of the best spas on Boracay Island, Mandala is a spa village located along the Main Road in Station 3. They are known for their award-winning treatments that have been recognized by no less than the Asia Spa Awards. Mandala is located in a complex with a swimming pool and large villas equipped with spa baths along with other luxurious amenities.
Guests may avail of Mandala Spa and Villas' well-recognized Hilot Trilogy (Filipino-inspired), Shodhana Karma (Ayurvedic treatment) and Watsu (water therapy). The spa has several treatment packages custom-designed according to guests' needs. Detox programs, healing treatments, pampering treatments and yoga classes are also offered.
Prince range: NOT AVAILABLE
Mandarin Spa
Located along the beachfront of the famous Boracay White Beach, guests get luxurious treatments while looking out into the beauty and goings-on at the bay. This spa is located at the Boracay Mandarin Island Hotel, one of the top-rated resorts on the island.
Mandarin Spa's menu includes the traditional Filipino massage called hilot along with other treatments like hot stone massages, aromatherapy, foot scrubs and massages, facials and holistic treatments. Special offers like dinner-spa packages and extended hour treatments are available.
Price range: NOT AVAILABLE
Kai Regency Spa
Kai Regency Spa is the wellness jewel of the famous Boracay Regency Beach Resort and Spa located in the beachfront of White Beach Station 2. Guests enjoy the luxury of pampering themselves without going too far away from all that is happening at the heart of the island. Treatments at the Kai Regency Spa are also localized in different parts of the resort, making one feel more detached from the rest of the world from the beginning to the end of each.
Kai Regency Spa's menu offers various massages, body treatments (scrubs and wraps), hand and foot care, facial pampering, and a whole range of special packages called Kai Rituals. All treatments are designed to recharge the body and invigorate the spirit.
Price Range: PhP3k-PhP15k
If you're planning a vacation on Boracay Island in the coming months, pencil in a day at the spa in your itinerary. If you wish it, you may book rooms in any of the resorts mentioned in this post so you'll have easy access to your much-needed pampering.
There are still plenty of other spas located all over Boracay Island. Some of them are specialized establishments while others are parts of resorts. This list contains but a few of the best spas on Boracay Island based on customer reviews and word-of-mouth. If you do have something to add to this list, please tell us about your experiences in the comments box below.